Il nostro imballaggio compostabile offre elevata trasparenza e resistenza all'impatto
La Nostra Varietà Di Applicazioni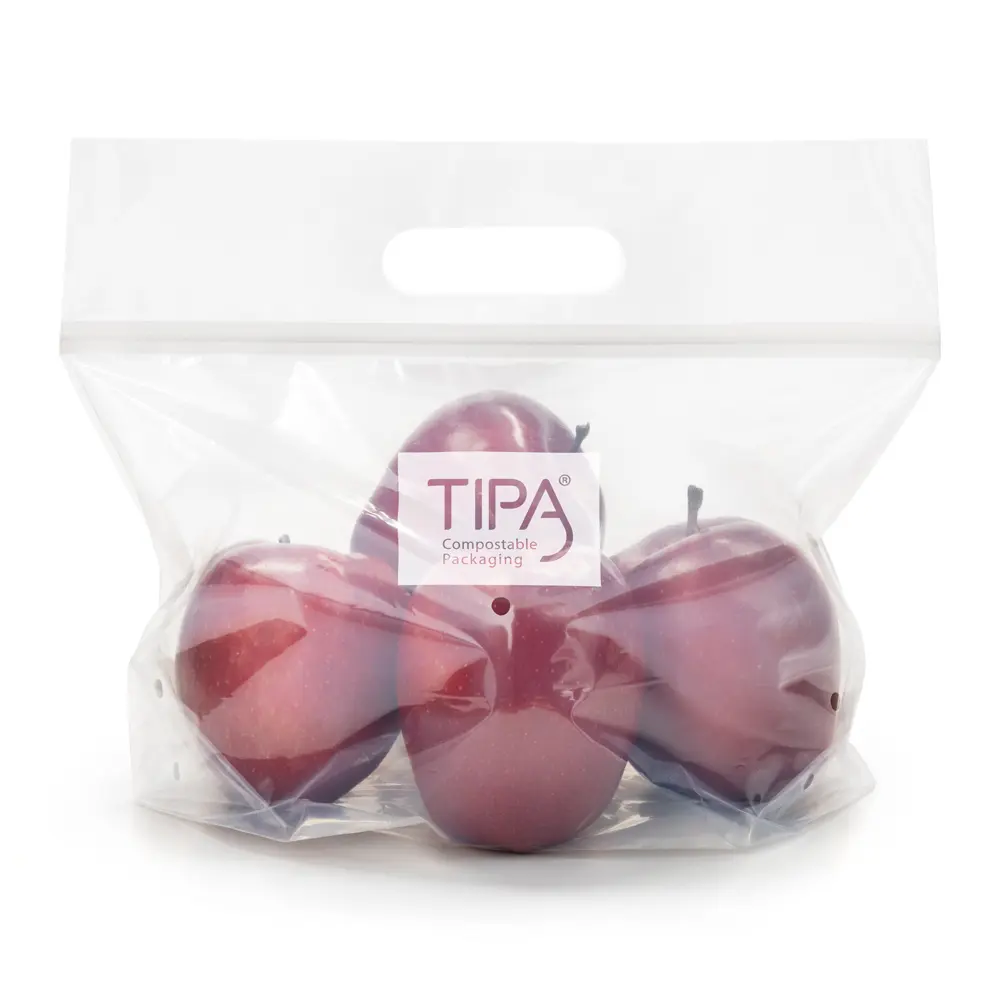 Busta con zip
Busta a strappo
Busta aperta in rotolo
Bobine per FFS
Massimizza Le Prestazioni Del Tuo Packaging
Elevata resistenza all'impatto
Facilmente implementabile su macchinari esistenti
Conforme al regolamento sui materiali a contatto con gli alimenti dell'UE e degli Stati Uniti
Disponibilecon zip TIPA completamente compostabili
Non OGM
Cosa Dicono Di Noi I Clienti?
"Siamo entusiasti che le banane Waitrose Duchy Organic siano confezionate nella nostra innovativa busta compostabile per la casa."
Tom Harris
Waitrose & Partners
"La nostra missione è quella di rendere la tua merenda la più gustosa e sostenibile al mondo, che trasforma la tua vita e che sia senza sprech."
John Paap
Brand Manager di Jac Vandenber
"Volevamo ridurre il nostro impatto ambientale in modo significativo, cambiando il modo in cui i consumatori ricevevano i prodotti freschi."
Franco Fubini
Fondatore e CEO di Natoor
Certificato Completamente Compostabile
I film compostabili TIPA sono certificati da TÜV Austria OK Compost Home, ABA, Cre Ireland, European Bioplastics e BPI e sono conformi agli standard internazionali di compostabilità EN 13432, ASTM D6400, AS 5810 e alle relative normative UE e USA sui materiali a contatto con gli alimenti
frequently asked questions
What kind of home compostable packaging does TIPA offer for apples?
TIPA® offers common packaging applications for apples like zipper bags, wicketed bags, and flow-wrap packaging for punnets or trays. Packaging can be customized with required perforations, bottom gusset and handles 
What other kinds of fresh produce can be packed using TIPA®'s home compostable film?
TIPA® offers compostable packaging solutions for fresh produce like fresh fruit and vegetables that protect your product's shelf-life and freshness. 
Does TIPA's compostable film need special converting or packing machinery?
TIPA® products can be converted on conventional converting machinery. Our films and laminates are designed to fit your existing machinery and chain of supply systems, making your packaging journey an effortless one. 
What is the minimum order quantity?
The minimum order quantity for reels is 500 kg per SKU. 

For custom printed packaging, minimum order quantity is on average 30,000 units per design (MOQ may change according to bag size and thickness)

For small quantities, check out our 

stock offering

 for unbranded compostable fresh produce bags.
Can TIPA provide compostable packaging for other segments?
TIPA provides compostable packaging solutions for a variety of segments including dry food (e.g. nuts & grains), frozen food, snacks, baked goods and many more.
Che tipo di imballaggio compostabile domestico offre TIPA per le mele?
TIPA® offre applicazioni di imballaggio comuni per le mele come buste conzip, buste a strappo e imballaggi flow-wrap per cestini o vassoi. L'imballaggio può essere personalizzato con perforazioni, soffietti sul fondo e maniglie su richiesta.
Quali altri tipi di prodotti freschi possono essere confezionati utilizzando il film compostabile in ambiente domestico e industriale di TIPA®?
TIPA® offre varie opzioni di imballaggio per tutti i prodotti freschi e ha dimostrato di estendere la durata e la freschezza di frutta e verdura fresca.
Il film compostabile di TIPA necessita di macchinari speciali per la trasformazione o l'imballaggio?
I prodotti TIPA® possono essere fabbricati tramite macchinari di trasformazione ordinari. I nostri film e laminati sono progettati per adattarsi ai tuoi macchinari esistenti e alla catena di sistemi di fornitura, facilitandone il processo di confezionamento
Qual è la quantità minima d'ordine?
La quantità minima d'ordine per le bobine è di 500 kg per SKU
Per imballaggi stampati personalizzati, la quantità dell'ordine varia da 9.000 a 230.000 unità per disegno (a seconda delle dimensioni e dello spessore del sacchetto) ·
Per piccole quantità, controlla la nostra offerta di stock di buste compostabili senza marchio per prodotti freschi.
TIPA può fornire imballaggi compostabili per altri settori?
Sì! TIPA® fornisce soluzioni di imballaggio compostabili per una varietà di settori. I nostri imballaggi sono venduti a peso come bobine di film e per unità comeconfezioni preformate. Consulta il nostro portfolio completo qui.
Nature won't even notice we were here…